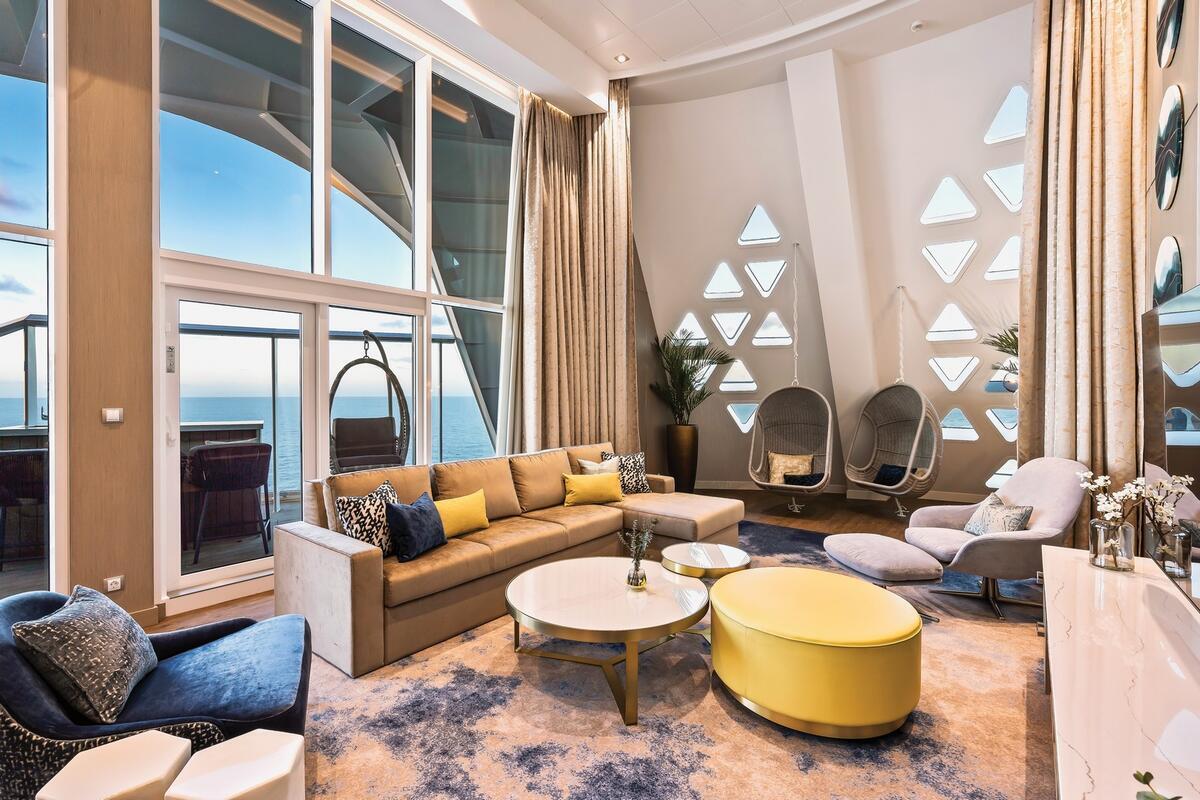 5 Best Cruise Ship Suites on Royal Caribbean
While we love sailing in any type of cabin, there's something magical about sailing in one of Royal Caribbean's spacious and lavish suites. The mix of extra living space, luxury and service offers the best amenities and perks of any cabin on board.
From in-suite slides to wraparound balconies and private hot tubs, here are the 5 best cruise ship suites we recommend when you're looking to splurge on a cruise vacation.
Ultimate Family Suite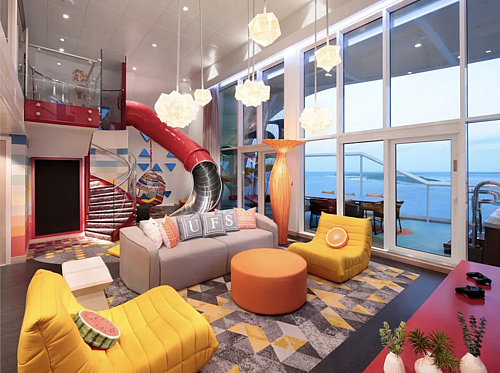 Royal Caribbean's Ultimate Family Suite is an oasis for kids of all ages. Designed to be the most child-centric cabin on board, the Ultimate Family Suite is bursting with bright colors and kid-friendly games and activities.
The Ultimate Family Suite is currently available on three ships: Symphony of the Seas, Spectrum of the Seas and Wonder of the Seas. While the suite on Symphony of the Seas is a bit smaller than on Spectrum and Wonder, each suite has a similar two-story layout and concept.
Related: Is a suite at the Royal Caribbean worth it?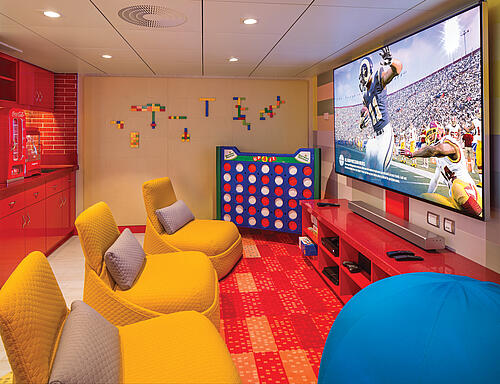 Inside the Ultimate Family Suite, you'll find an in-suite slide, private bedrooms for kids and adults, a play area, family room, and a dining table that converts into a tabletop game like ping -pong or air hockey. The spacious balcony has a private jacuzzi, children's steps into the suite, plenty of sun loungers and a dining table.
The suite on Wonder of the Seas and Spectrum of the Seas even has a set of "piano stairs" that guests can use to make music while going up and down the stairs.
AquaTheatre Suite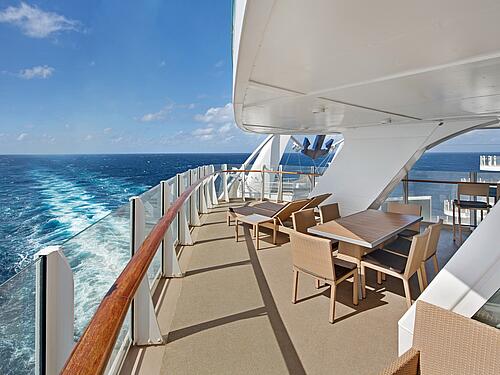 Available only on Oasis Class cruise ships, the AquaTheater Suite overlooks not only the ocean, but also the ship's AquaTheater entertainment venue. 2 and 1 bedroom AquaTheater suites are available for reservation.
All AquaTheater suites have an extremely spacious balcony that wraps around the back of the ship. Due to the design of the stern of the ship, AquaTheater suites become progressively smaller the further they are on the ship. The AquaTheater Suites on Deck 7 will be the largest, with the most balcony space.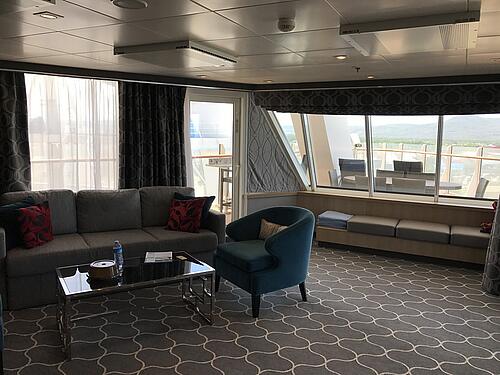 An important distinction between the suites is that the 1-bedroom AquaTheater suites are Sky class and the 2-bedroom suites are Star class. This means that those in the 2-Bedroom AquaTheater Suite have access to Star Class benefits such as a free Royal Genie and specialty meals, while those in the 1-Bedroom Suite do not.
Related: A beginner's guide to sailing in Star Class
Royal Loft Suite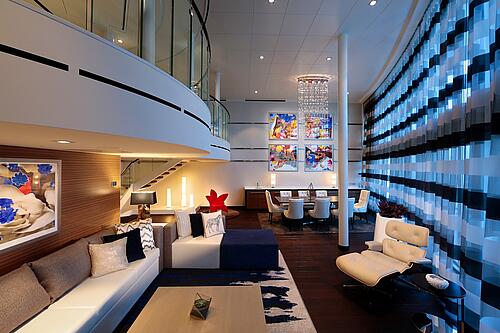 Any loft suite is impressive on a Royal Caribbean ship, but if you're looking for the most spacious outdoor living space you can find, look no further than the Royal Loft Suite. The Royal Loft suite is available on Quantum and Oasis class ships, although the layout and features of the suite may differ from ship to ship.
These duplex suites have a spacious living room on the ground floor including a private bedroom, a bathroom and a media area. Upstairs is the master bedroom, featuring a king-size bed and a spacious en-suite bathroom with bath, shower, double vanity and bidet.
Related: A look at the great sequels of Wonder of the Seas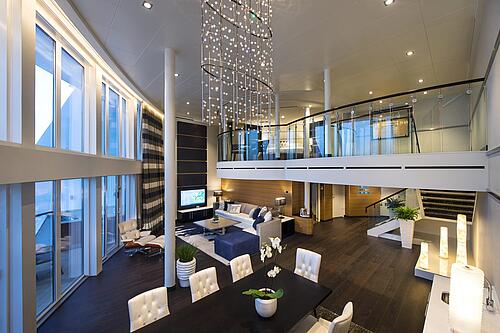 Guests of a Royal Loft Suite will love the floor-to-ceiling picture windows spanning both floors of the suite, offering unobstructed ocean views.
The Royal Loft suites have a very spacious balcony, with a dining table, a bar, lounge chairs and a private jacuzzi. Some Royal Loft suites even have a grand piano with a self-play feature so you can enjoy piano tunes even if you can't play!
Panoramic Suite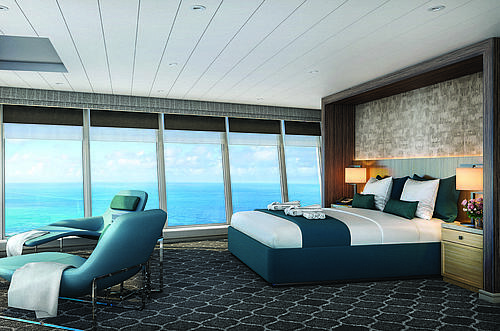 While the idea of ​​a suite might have you imagining a very large, wrap-around balcony, there's an impressive Royal Caribbean suite with no balcony at all: the Ultimate Panoramic Suite.
The Ultimate Panoramic Suite is a 914 square foot suite with 200 degree ocean views through floor-to-ceiling picture windows. The suite has a separate living room and bedroom as well as a large bathroom complete with a soaking tub and luxury toiletries.
The suite is included in Royal Caribbean's Star Class, so even though there is no balcony, you will be able to enjoy the best of the best of Royal Caribbean's suite experience.
junior suite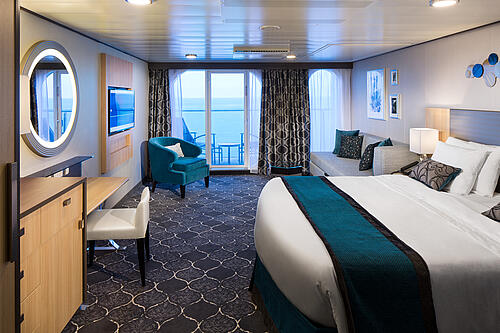 While not the largest or most luxurious suite on a Royal Caribbean cruise, a Junior Suite may be one of the best cabins to book if you're hoping to get a (little) taste of life in on board. This article, after all, is about the "best" cruise suites to book, not necessarily the most expensive.
Junior Suites, while technically classed as a suite, tend to have more in common with a balcony stateroom than a lavish grand suite. There may not be in-suite hot tubs or self-playing grand pianos, but a Junior Suite offers additional perks over a regular Balcony Room.
Related: Royal Caribbean Junior Suites: what you need to know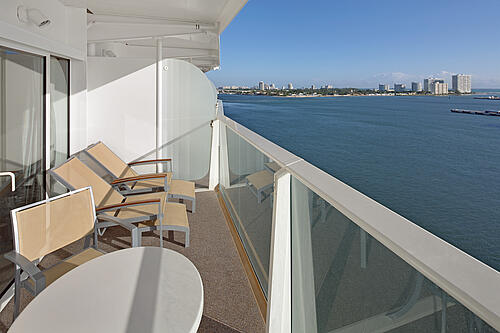 In addition to a larger living room and balcony, Junior Suite guests enjoy many perks, including double C&A Society points, luxury toiletries, an in-suite Lavazza Espresso coffee machine, and boarding priority. Those staying in a Junior Suite on Oasis or Quantum Class ships also have access to Coastal Kitchen, the suites-only restaurant, for dinner only.
The reason we've included a Junior Suite in this list is because of its position as an entry-level way to experience what a Royal Caribbean suite experience has to offer. A junior suite is much cheaper than booking, say, a loft suite, so it can be a good way to "treat yourself" without breaking the bank.