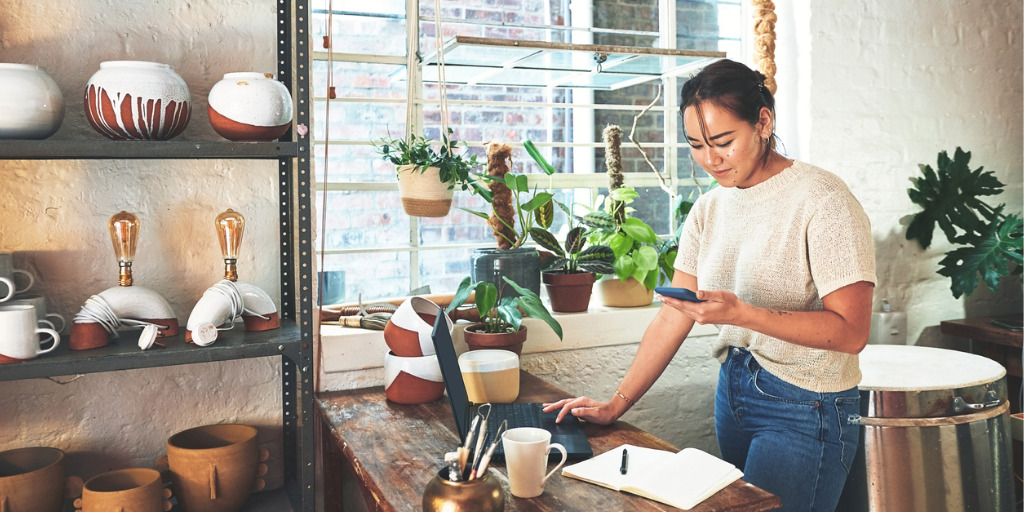 Financing for small businesses in 2022
Finding the right small business financing can make all the difference to the success of your business. In 2021, almost 62% of small businesses used personal funds to cover cash shortfalls in their business. Although this practice likely puts a lot of strain on the business owner's personal assets, securing sufficient financing for the business can help.
In this article, we explain why small business financing is important, how to determine how much financing you need, and what the best financing options are for your business.
Why is financing important for small businesses?
There are many reasons why small business financing is essential. Many small business owners and entrepreneurs need money to make their idea a reality. So they can't even get started without the right small business loans. Lenders also often require small businesses to do market research before offering financing, but even market research requires money.
Having sufficient business financing is also often the only way to grow your business or develop new products, both of which are fundamental factors for many successful businesses. It may not be possible to grow your business using just your profits.
Even if you're not looking to grow your business, the uses for small business financing are virtually endless. Having sufficient business financing can help you stabilize your cash flow during off-season, increase working capital, meet financial obligations, or maintain sufficient inventory to meet customer demand.
Is it difficult to obtain financing for small businesses?
Whether or not it is difficult to obtain financing for a small business depends on the qualifications of your business, the type of financing you request and the amount of the loan. The US Small Business Administration (SBA) has a notoriously difficult application process, but online lenders may have more flexible eligibility requirements. Whether or not you qualify depends on the individual financing option.
Other factors that matter are your business details, such as your personal and professional credit ratings, time spent in business, and annual income. If you need help with your business credit scores, check out Nav's guide on how to build business credit. Other factors are whether or not you have a solid business plan and how much you are asking for in loan funds.
How can I quickly obtain financing for my business?
Finding quick funding opportunities can seem daunting, but there are plenty of options available to you. Generally, online or alternative lenders can get you business financing faster than traditional banks. Here are some great options that target various business goals:
Many online lenders can get you simple online applications and funding in as fast as a day or two.
However, keep in mind that the interest rates for these business financing options can be significantly higher than for traditional loans. Be sure to review all terms and payment requirements before agreeing to borrow.
How much financing does my business need?
The amount of small business financing your business needs depends on how you will use the money and what you can afford. If you're looking to start a business, estimate your start-up costs, which will heavily depend on opening a physical site, an e-commerce business, or selling services. On the other hand, if you need financing for a specific purpose (like launching a new product), make sure you don't borrow too much since you'll have to pay interest on every dollar you owe.
Before you borrow, you'll want to calculate the cost of debt so you're sure how much you'll owe on all of your business debt. Then you will be able to tell how much money you can really afford to borrow.
Ways to finance a business
There are two main methods of financing a company: going into debt or selling equity to investors. Here we explore the most common financing options for businesses.
1. Take out a bank loan
Term loans are offered by banks and other financial institutions for a specific amount with monthly repayment requirements. You can find many of the same types of financing that online lenders offer, such as invoice financing and lines of credit. Borrowers receive an interest rate based on their business factors, and interest rates are generally low with bank loans. However, traditional loan programs can be difficult to qualify for new businesses or businesses with bad credit.
2. Get financing online
Online lenders may have less stringent requirements for their business applicants, so it may be easier to qualify than with a traditional bank. The application process with this type of lender is often entirely digital, so it can be completed from anywhere and only takes a few minutes. Also, they may be able to send you the money within a day or two of being approved. But, as mentioned, interest rates can be higher with an online lender than with a traditional bank loan, so you'll want to pay them off quickly.
Here are some great offers from our lending marketplace:
3. Apply for an SBA loan
The federal government backs US Small Business Administration loans, so interest rates are often among the lowest in the market. Low rates make this financing option highly sought after. However, it can be very difficult to qualify for an SBA loan, so review the qualification requirements in detail before applying.
The government also supports Small Business Innovation Research (SBIR) and the Small Business Technology Transfer (STTR), which provides funding to small domestic companies seeking to increase innovation.
4. Get a Small Business Grant
There are many grant programs available for small businesses – and the best part is that you don't have to pay them back. Small business grants are offered by government, nonprofits, and corporations to help struggling businesses. For federally supported grants, go to Grants.gov.
The Nav Small Business Grant is a quarterly grant open to all small businesses in the United States. Check our website for when applications open next.
5. Use crowdfunding
Crowdfunding is a way to use your community and network to raise funds for businesses. Rewards-based crowdfunding is the type of crowdfunding most people are familiar with: you contribute a specific amount and you get something small in return. You may get a product or early access to a launch, but you know in advance what you're getting for your donation. Donors don't expect to be reimbursed for their contributions, so you can avoid paying interest with crowdfunding.
6. Find stock investors
Equity financing is a way to get financing for small businesses without going into debt. You bring in investors in exchange for equity in your business. This type of financing is most often used by startups, but it could also be the right option for you. Just keep in mind that you have to give up some control of your business in exchange for the investments, so make sure you're comfortable with that.
Financing of salary expenses
Payroll compliance is one of the most important obligations you have as a small business owner. Your employees rely on you to pay them in full and on time. The good news is that if you're short on cash, there are several options for financing your business. You can turn to a payday loan which must be used specifically for payroll. Or you can use flexible small business financing options like business loans, merchant cash advances, or even business credit cards to open up cash flow and payroll.
Financing a business expansion
Expanding your business can be a great prospect, but you need a way to pay for it. Your funding method will depend on how you plan to grow. For example, if you need to purchase real estate for a warehouse or brick-and-mortar location, you can turn to commercial real estate loans. If you plan to increase your inventory after your marketing campaign has brought in new customers, you may want to consider an inventory loan. But many of the same small business financing options are available for expansion.
Your next steps
For training and advice on all small business financing matters, you can consult a Small Business Development Center near you. They offer business programs that help small businesses build and maintain success. And Nav is always there to help. Signing up for a free Nav account gives you instant access to our extensive small business finance marketplace. It's the easiest way to find the small business financing that's right for you.
class="blarg">