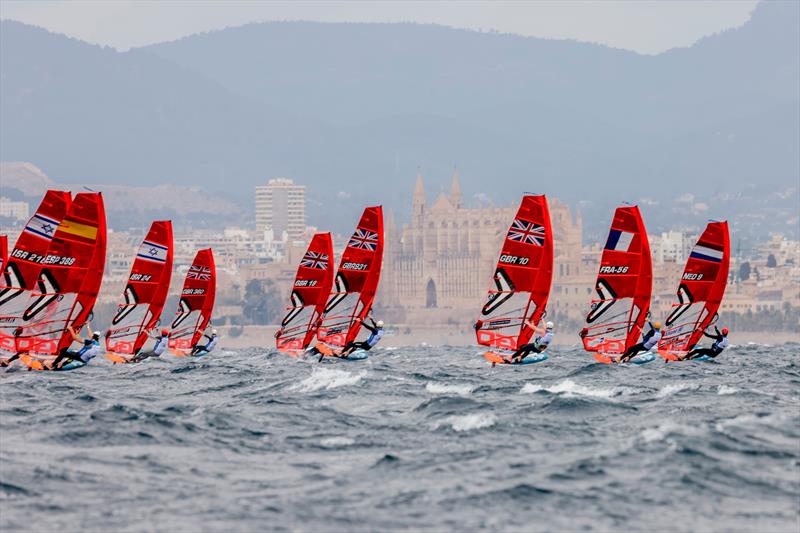 First windy test for new classes
51 Trofeo Princesa Sofia Mallorca Day 1: Windy first test for new classes
by Trofeo SAR Princesa Sofía Apr 4 10:53 AM PDT
April 1-9, 2022

In all respects other than air temperature, there was a baptism of fire in the Bay of Palma when three of the new classes contested their first races in the Olympic Classes Arena at the 51 Trofeo Sofia Mallorca today. today.
Strong gusty offshore breezes at times reached well over 25 knots to provide a tough test for the first iQFOiL men's and women's windsurf classes and the mixed 470 dinghy class.
Powerful Briton Sam Sills reveled in his favorite wind conditions in the men's iQFOiL fleet. A two-time world champion as a young windsurfer and accomplished RS:X racer who has competed in the Sofia for ten years, Sills took two opening wins in his 50-man fleet before jumping the tee shot to land a UFD disqualification which he immediately atoned with his third winning pistol.
With Finn Hawkins in second and Andrew Brown in third, Sills leads a GBR monopoly of the top three places proving the advantage of the team's extended training period in Lanzarote and two good weeks of training on regatta waters from Mallorca.
"There's a long, long way to go to the finish line, but it's a good way to start. You never really know what to expect at the start of a season. But days like these when it's so windy and gusty you're just trying to hang on and sail my best." smiled Cornishman Sills who joked it was cold enough for him to wear two suits.
"But it's also good that I started a regatta a long, long time ago. And it's great to be here in the Olympic arena with the iQFOiL. The RS:X was fun but it was very hard, it's hard but it's more fun. The competition is tight and everyone pushes, the level rises with each event. It's very interesting with the slalom starts because the guys from the PWA (Professional Windsurfing Association) Tour are probably better starters. But I have I practiced the starts a lot. The one that ended was a learning point and at this point in this event it's good to try different starting techniques and so I won't try that one again. Thresholds added.
In the women's iQFOiL, French double European champion Hélène Noesmoen got off to the best start, with today's conditions more reminiscent of her hometown of Les Sables d'Olonne on the French Atlantic coast than the Mediterranean.
The harsh conditions were a litmus test for the newly formed mixed doubles partnerships in the 470 dinghy. The challenge of keeping the boat upright left little time to polish maneuvers and communication. Jordi Xammar, the Spanish Olympic bronze medalist in the 470, now sails with Nora Brugman. Somehow they fought for 1st and 2nd place in their two heats. This puts them tied for 1st with the Italians in the other qualifying group, Giacomo Ferrari and Bianca Caruso.
"We were out of control today," smiled Xammar, who has just returned from sailing the Spanish F50 hydrofoil catamaran in the SailGP season finale in San Francisco. "I've spent the last two weeks feeling out of control 100% of the time, so I think that helped me deal with that feeling of being out of control in the 470 today."
Xammar admitted that he made a promise to himself before leaving the beach not to attempt anything dramatic. "We were trying not to make stupid mistakes and to be smart, and maybe we were a bit too conservative, but we're happy with our day."
In the men's ILCA 7 fleet, 2012 Olympic silver medalist Cyprus Pavlos Kontides took two wins ahead of GBR's Michael Beckett and Germany's Philipp Buhl who both finished second and first in their qualifying fleets respective.

Formula Kite becomes Olympic
The 115 foiling Formula Kite riders make their debut on the Olympic Classes stage on Tuesday in the Bay of Palma at the 51 Trofeo Sofia Mallorca. In itself, the sheer scale of a regatta of 1,000 athletes from 62 nations and ten classes sailing eight course areas is something of a culture shock.
And for many free-spirited souls, stepping into the Olympic arena at this first Hempel Sailing World Cup Series regatta of 2022 is an early warning of the dedication, focus and discipline that will be required to clinch a medal in Marseille in 2024.
"Usually with our own events we have around 100 riders, so the scale of organization here is incredible." enthuses Antoine Weiss, the youth coach of a well-organized and well-resourced French team, which had three male athletes in the top four and female athletes finishing third and fourth at the 2021 Formula Kite World Championships "In fact, with the Olympics coming up, it's a good first warm-up, a chance for the athletes to get a feel for a really important event like this. They have a better sense of what's going on. they have to do. They start to understand this thing. And now, here, it feels real. And from there, they will be more focused and give more energy to the programs. Now, if you don't train properly, you just won't make it Top 10 in both It's very difficult to get into the fleets At the moment there are 20 or 30 girls at this high level but for men at the moment even getting in in the top 50 is difficult.
Naturally, the French are determined to turn their current dominance into proper Olympic medals in their home waters in just over two years. Weiss notes:
"We started kite foiling early and we have a lot of riders and the Federation gives good support to the riders."
But he warns: "Marseille is very specific with the Mistral especially. There is no beach. The Mistral is more onshore and very gusty. In the thermal sea breeze it's easy. tend to train in Hyères and in Montpellier."
Fast, fast runs – typically 12 minutes – leave no room for error. The program in Palma is four races a day. After two days of qualifying, the top 14 athletes advance to the final, with the top two qualifiers progressing directly to Saturday's six-to-nine-minute four-rider medal race where they will be joined by the winners of each of the six solid halves -finals.
Competitors sign four kites for the regatta – from one of five different IKA-approved brands. The four licensed brands each have between eight and ten kites ranging from 7m to 25m to choose from. During the regatta, competitors may change at any time when a flag is displayed. As soon as it is shown, the competitors return to the beach to change. There are ten different licensed foil manufacturers, two of which – one German, one Italian – are predominant.
Here they sail in classic downwinds, going upwind to the first buoy where they turn to reach another downwind (an outer loop or trapeze) while the final is a shorter standard downwind . The target time for qualifying races is 12 minutes and 6-9 minutes for the final.
The 51 Trofeo Princesa Sofía Mallorca is jointly organized by Club Nàutic S'Arenal, Club Marítimo San Antonio de la Playa, Real Club Náutico de Palma, Real Federación Española de Vela, Federación Balear de Vela and World Sailing, with the support of the main public institutions of the Balearic Islands.
Full results to date can be found here…