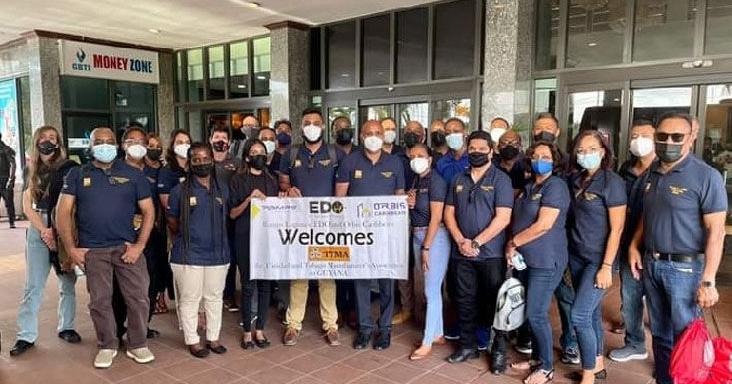 Head of TTMA: Many benefits to be gained from TT-Guyana trade | Local News
Despite the negativity that sometimes surrounds relations between Trinidad and Tobago and Guyana, the business communities of both countries are determined to develop trade between them.
And the benefits to be reaped will be two-way, said Trinidad and Tobago Manufacturers Association (TTMA) Chief Executive Dr. Ramesh Ramdeen.
In a telephone interview with the Express on Friday, Ramdeen hailed the TTMA's physical trade mission to Guyana last week as a success.
The trade mission, held from Monday to Thursday, included 27 T&T companies from various sectors including food and beverage, printing and packaging, chemicals, construction and agribusiness .
"Significant opportunities have been created, especially for those in the food and beverage sector. A lot of these things are in their early stages, in terms of price and quantity negotiations, but we have been able to secure sales" , Ramdeen reported.
He added that some companies are also looking for longer-term projects.
"We also have companies discussing investment opportunities in Guyana… setting up shop. It will take more time to be approved, but some preliminary work regarding pre-investment operations such as security, land space, securing part of the investment authorization certificate, basics were thrown for it. They have managed to put in place some of these regulatory measures to deepen the exploration and discussion of investment opportunities," he said.
"Part of the trade mission was not just to go there to find a market for our goods destined for Guyana. We have companies that were able to source products from Guyana to travel to Trinidad from this mission. There were manufacturers there who met distributors from Trinidad," he pointed out.
Human partnership
Ramdeen disclosed that the TTMA was also able to sign a Memorandum of Understanding with the Guyana Manufacturing and Services Association for cooperation between the associations to assist with trade missions and information exchange, "to ensure the continuation of trade".
"Despite all the negativity sometimes surrounding the two-country policy, the business environment will continue to seek out the benefits and returns to be achieved for the business community.
"So from the private sector to the private sector, we are embarking on the process to move trade in a formal direction, to enable both countries to benefit under the auspices of Caricom (Caribbean Community) and CSME (Caricom Single Market and Economy)," he said.
In recent months, regional concerns have been raised over whether Guyana's new local content law, which guarantees Guyanese nationals priority for opportunities in the oil and gas sector, excludes countries in the region from working in the sector and whether the law violates the Revised Treaty of Chaguaramas – the central agreement that governs the creation of Caricom.
Ramdeen said the TTMA had met with Guyanese Vice President Bharrat Jagdeo on the matter, and he assured that the local content policy at present does not cover trade in non-energy items.
"It's really specific to the energy sector. Of course the TTMA represents the non-energy sector, so most of our investors go there to invest in the non-energy sector, so it doesn't concern them," he said.
Jagdeo told a recent press conference that while the Guyanese government would not sit idly by and allow foreigners to relocate Guyanese from their own resources, Guyana was not going to discriminate against Trinidadians settling there. businesses.
"We want Trinidadians and their businesses to come here, in partnership with our people. We are grateful for the support they have given to our people. We have a lot of skill capital here. They are welcome here, but they must come in partnership with our people," he said.
Ramdeen noted that there are currently over 40 T&T companies that have been operating in Guyana for years such as Ramps Logistics Ltd, MovieTowne, Royal Castle, Karibbean Flavors.
More recently, he noted, Kamri Glass Ltd entered the Guyana market.
"There are companies in the banking sector, the food and beverage sector, the retail sector, the manufacturing sector and the energy sector," he said.