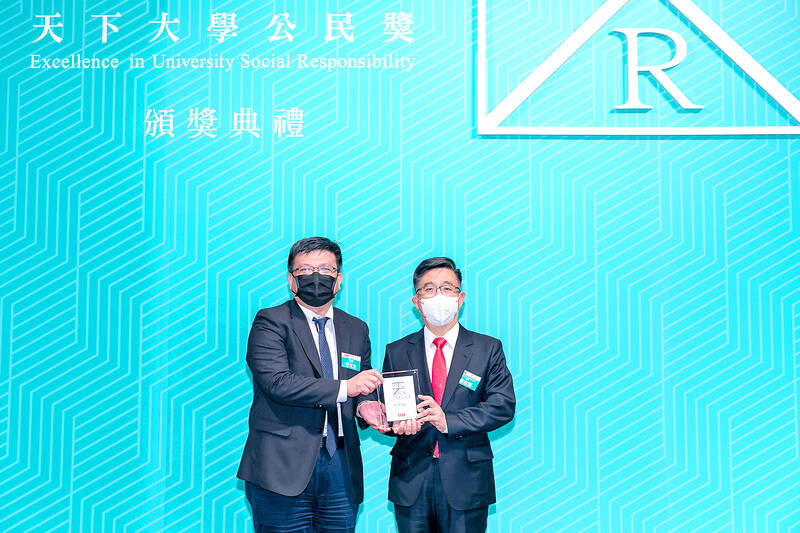 HSBC first in CSR for foreign banks at magazine awards
HSBC Bank (Taiwan) Ltd (滙豐台灣商銀) ranked first among foreign banks in CommonWealth Magazine's Excellence in Corporate Social Responsibility Awards this year, given its outstanding performance in corporate engagement , social participation and environmental protection, the bank said.
HSBC has been in the foreign company group's top four for 12 years since 2011 and climbed to the top spot this year. This indicates the bank's central role among foreign companies in Taiwan in upholding its commitment to corporate social responsibility (CSR).
The bank's outstanding performance in addressing environmental, social and employee issues was key to winning this year's top award, according to the magazine.
Photo courtesy of HSBC Bank (Taiwan) Ltd
In particular, HSBC's long-term environmental investment shows it is committed to local communities and had spent NT$160 million (US$5.18 million) to help preserve the nature park of Guandu in Taipei (關渡自然公園) at the end of last year. , he added.
"Commonwealth Magazine's Corporate Social Responsibility Excellence Awards are the most prestigious and competitive CSR awards in Taiwan. HSBC is honored to receive the award this year, and we are very pleased that our long-term efforts in the natural environment have been recognized by judges and the public," said HSBC Taiwan CEO Adam Chen (陳志堅) .
"Behind this honor is HSBC's consistent efforts and perseverance in actively fulfilling its corporate social responsibility," Chen said. "One of the important core values ​​of the company is to create a high-quality working environment for employees, and in different aspects – including professional training, various career development plans, a transparent global transfer system and work-life balance, among others – creating a flexible and positive working atmosphere for colleagues.Thus, the recognition of company values ​​by employees has steadily increased year by year . »
"HSBC also offers volunteer programs to encourage employees to care about society, and the volunteer work of HSBC employees and their families on environmental and social projects is a key strength in enabling us to fulfill our social responsibilities. In the future, HSBC will continue to implement the concept of long-term sustainable development in all aspects of corporate management and business development, and become a benchmark company in fulfilling its social responsibilities in Taiwan. said Chen.
HSBC said it has been a leader in encouraging employees to participate in ecological conservation and make an active contribution to environmental protection and local communities. The bank's volunteers have regularly visited Guandu Nature Park in Taipei over the past 20 years to help restore wetland plants and preserve its environment, the bank said.
The efforts of volunteers have enabled the park to be home to nearly 950 species of creatures, providing a healthy environment for wetland wildlife and acting as one of the lungs of the greater Taipei area, he said.
Such activities are important for ecological conservation and environmental education, he added.
Faced with the risks associated with climate change, HSBC has responded with environmental protection activities such as Earth Hour, World Environment Day and Day of Climate Action. The bank also provides advice for energy conservation and reduced carbon emissions, and works with clients to invest in green energy projects towards the goal of net zero carbon emissions, he said. she stated.
HSBC also promotes cultural diversity and inclusion, focusing on gender equality and empowering minorities, the bank said.
Among HSBC Taiwan's middle and senior managers, more than 60 percent are women, which is higher than HSBC's global average, he said.
HSBC supports diversity by extending benefits to same-sex couples and adoptive families, long before the implementation of Taiwan's same-sex marriage law. The bank has created a friendly working environment and culture through internal sharing and training. HSBC also attends the Taiwan LGBT Pride Parade every year, he said.
HSBC responds to social issues by cooperating with charitable groups and works to eliminate prejudice and stereotypes against women and ethnic groups. HSBC has also launched the Future Skills Training Program to build the capacity of rural youth in areas such as financial management and technology, he added.
In response to global uncertainties caused by the COVID-19 pandemic and climate change, HSBC has incorporated sustainable performance into one of the bank's global operational objectives and set up an oversight conference to draft a development plan environmental and social, the bank said. .
HSBC managers and senior executives regularly monitor ESG trends, strategies and objectives, and make continuous improvements in energy conservation, carbon reduction, resource conservation, sustainable finance and employee ESG awareness, he said.
HSBC is also attentive to green industry trends and has voluntarily signed the Equator Principles to support sustainable finance. The bank also provides financial services in the field of renewable energies, such as the financing of solar power plants and the financing of offshore wind projects.
It also offers services to companies and individuals in terms of green financial products. The bank has also contributed to the development of diversified financial products such as green bonds, green deposits, green guarantees, sustainability-linked loans, green mortgages and ESG funds, enabling the bank to achieve new goals. of sustainable development.
Comments will be moderated. Keep comments relevant to the article. Remarks containing abusive and obscene language, personal attacks of any kind or promotion will be removed and the user banned. The final decision will be at the discretion of The Taipei Times.